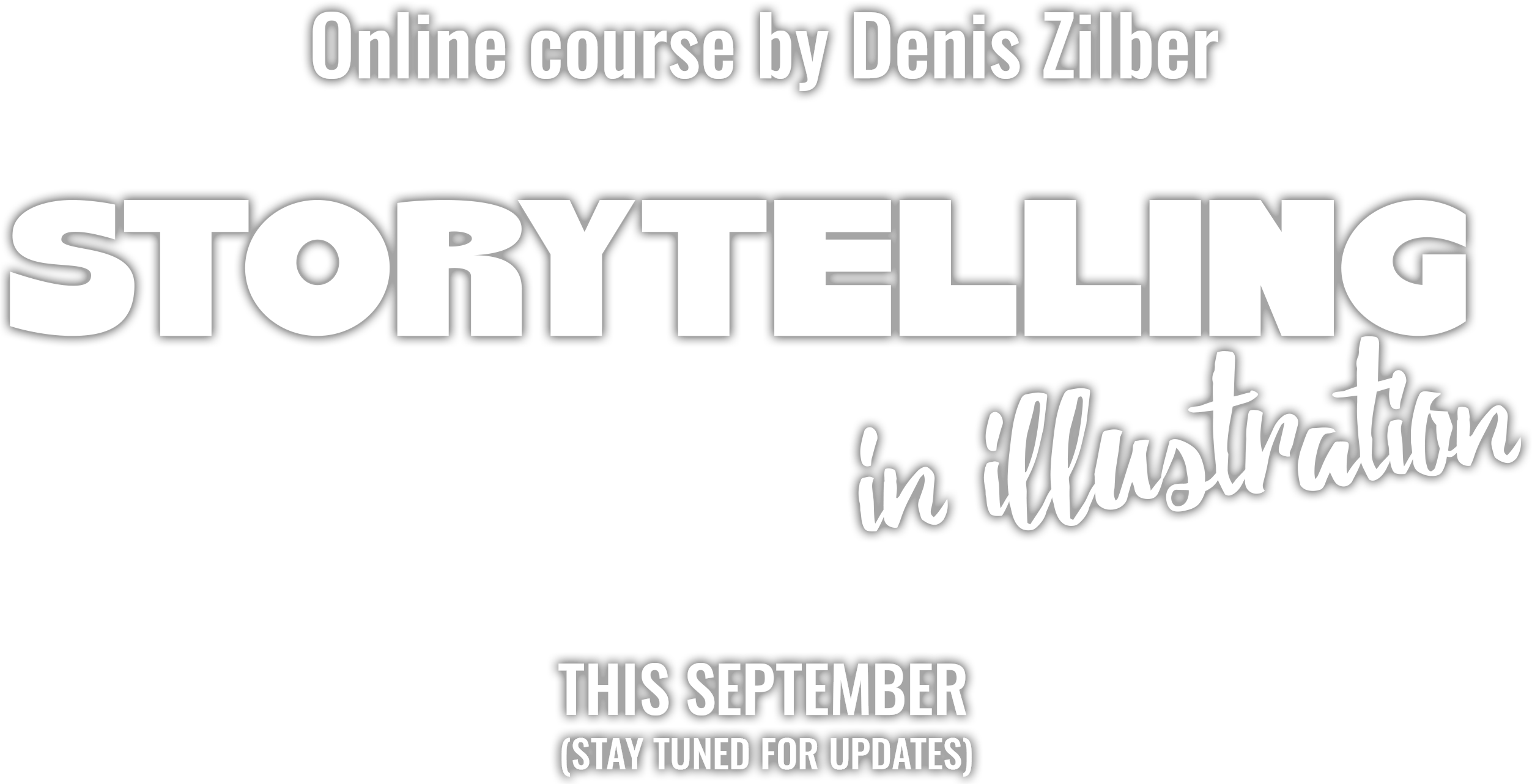 What is this course about?
---
This class is dedicated to storytelling, to be precise, skill of telling stories with images. You will learn about basic principles of storytelling and what parts of your story should be emphasized in order to make it look attractive. The class will show you how to separate important from unimportant and how to arrange your composition the way your story reads the best. You will also learn how to maximize use of space in your scene and angles of view to amplify perception of the story. The class will teach you about importance of silhouette and light for your scene. You will learn how to tell stories with characters and inanimate objects and how you can, using these tools, influence emotion state of your audience.
The course consists of  7 weeks и 14 weekly assignments.
Who is this course made for?
---
This course will suite not only professional illustrators, but also all those who might want to learn to deliver their ideas to the audience in a clear and sound way. Skills acquired during this course can be used in a very wide spectrum of visual communication fields: from children's books and editorial illustration to graphic design and even photography. Draftsmanship is not necessary at this course, though the better you draw, the more effective and fruitful your learning process will be.
What WON'T be in this course?
---
No grades, no technique or draftsmanship requirements. No drawing or character design lessons. No lessons on Photoshop or brushes creation. Use of colors won't be mandatory either. Only storytelling, only hardcore.
Easy peasy! Every Monday you are going to receive a new video lecture on the current week's theme. Along with the lecture you'll be getting two weekly assignments. The assignments are due next Sunday night. Upon receiving your assignments, I am going to check them out and record a personal critique for each one of you. Also, every Wednesday I'll be holding a live zoom QnA session so you can ask me personally all crucial questions. It's important to note, that neither your personal style nor your technique will matter during this course. You may draw as you wish. The only thing that matters is your storytelling skills, which is what we are going to learn here😊
"Storytelling in Illustration"
full critiqued course
Access to all lectures and materials
Access to live QnA sessions
Weekly assignments
Personal critique of each assignment
Access to other students critiques

Principles of Storytelling
Three Types of Images
What is Illustration?
Story and No-Story
Three Questions of Storytelling
Story as a Frame in a Sequence
Three Principles of Storytelling
Readability
Universality and Kitsch
Depth
How to Start?
Research and References
Believability
Conclusion
Composition and Negative Space
Principles of Composition
Composition as a Code
Static and Dynamic
Big and Small
Important and Unimportant
Parallels and Perpendiculars
Adjustments and Alignments
Negative Space
Grouping and Tangents
Golden Ratio
Conclusion
Exagerrated Perspective
Fish Eye
Dutch Angle
Upshot and Downshot
Foreground and Background
Depth of Field and Shading
Line of Action
Motion blur
Conclusion

First Line of Engagement
Silhouette and Importance of Elements
Local and Global Silhouettes
Multiple Composition Grounds
Composition Principles and Silhouette
Conclusion

Conveying Emotions
Three types of Lighting
Direct and Reflected Light
Soft and Hard Shadows
Shadow Depth
Ambient Light and Mood
Light as a Major Player
Focus of Interest
First Light then Color
Conclusion

Objects as Clues
Question to Aask Yourself
Keeping it Simple
When Enough is Enough
Audience as Sherlock Holmes
Things Defining Us
Conclusion

Character Emotions
Expressive Posing
Spine Bending
Facial Expressions
Arms, Eyes and Eyebrows
Line of Sight
Conclusion
advertising editorial and children books illustrator, character designer,
author, teacher and lecturer with more than 15 years of professional experience
I really enjoyed this course. All the material is well organized and presented in a captivating way, with clear examples, explanations and summaries. And that's not even the best part! The most valuable thing on this course is the feedback you get on your homework. Denis gets straight to the point and offers multiple solutions and fixes, greatly improving the resulting drawing. He is a very knowledgeable, patient, and tactful teacher with a seemingly boundless amount of fascinating information on pretty much any subject. The course is a logical continuation of his book, where the course forces you into a more hands-on approach of applying the principles Denis writes about. My mind was thoroughly blown by his book. And then the little grey matter that was left got blown away further by the course, but in a good way of course. I can't seem to shut up about to anyone willing to listen. This was a great learning experience, would recommend, 10/10!
When I first heard that Denis Zilber is starting to teach his new course "Storytelling for Illustration" I immediately knew I was going to sign up for this course. Not only because Denis is one of the top internationally acclaimed illustrators but also because courses on the subject of Storytelling are an extremely rare find. Now the 7 weeks of studying are over, I would like to share my experience with you. And the very first thing I would like to say is that I found this course excellent! Denis Zilber is a great teacher. He is very generous in sharing his tips and knowledge (and he really knows a lot!) with his students. In his lectures and weekly webinars, he always goes the extra mile to explain in depth all the important aspects of Illustration and storytelling and what actually makes a good illustration into an excellent and remarkable one. There are some great tips on actually making it in the industry too. And the most important thing is that Denis gives his students all the necessary tools to achieve their goals. The assignments are interesting, challenging at times but never boring and by the end of the course it is totally possible to have a few solid and exciting new pieces to add to your portfolio. The critique sessions are outstanding as well. Denis is a very tactful and kind teacher who gives constructive criticism in such a manner that it not only shows the mistakes made but also really motivates you to work harder on improving your skills and analyzing your work and becoming a better storyteller and artist. My only complaint is the 7 weeks flew by extremely fast. I would happily spend at least twice as long on this course. :) To cut a long story short, you should most definitely consider taking the "Storytelling for Illustration" course by Denis Zilber. It is a very well-structured course and over 7 weeks you will learn and discover plenty of new things about good storytelling and illustration even if you think that you already know it all. ;) Take this course and you won't regret it. 100%! :)